The company "PONTON" was founded in St. Petersburg in 2001. Factory was opened on the basis of a license agreement with the company «Pontona AB» Sweden. The company "PONTON" specializes in producing of heavy concrete pontoons and berths on the basis of lightweight concrete pontoons with wooden flooring.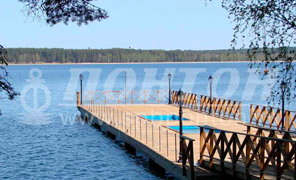 The company "PONTON" produces:


Heavy concrete pontoons
Breakwaters
Berths on lightweight concrete pontoons
Mooring fingers
Anchor Systems
Optional accessories (lighting, Service column, bollards, fire posts)
  The company "PONTON" provides the following services:


Preliminary and detailed design of marinas, wharves, ferries, bridges, floating houses and restaurants, private quays, baths and other equipment on the basis of concrete pontoons.
Production and delivery of pontoon facilities with a full range of accessories in accordance with the approved project.
Installation on turnkey basis
After-sales maintenance.
Marina Management: marina purchase and reconstruction.
Consulting: joint management of the reconstructed marina.

  We offer you the following services:


A specialist's attendance of site for technical advice.
Performance of preliminary harbor design with preliminary explication.
Calculation and budgeting of the necessary equipment.
Production of ordered equipment in St. Petersburg.
Transportation of the equipment to the installation site.
Mounting and installation of equipment on site (without connection to the shore network).

  The list of data the client should provide:


The address of the harbor (marina).
Master Plan (preferably on a scale of 1: 500) or a scheme of the water area.
Sounding map of the proposed location in the harbor.
Existence and height of annual fluctuations in water level.
The presence, direction and speed of the current.
The predominant wind direction and strength.
Local restrictions and special conditions.
Estimated number and dimensions of moored vessels.
The need to use land-based networks (water, electricity).
Water area frost penetration in winter.
The presence of ice activity.

  Send request for estimate


All work is carried out by highly qualified personnel.
Proven Swedish technology and global operating experience allow you to use our products in the most difficult climatic conditions, including the sea waves, currents, freezing waters.